Do you dream of a green Christmas? According to the Washington Post, 4 million tons of trees are wasted each year to make wrapping paper and holiday shopping bags. Glittering unique gift wrapping paper can be fun, but is it worth the damage to the environment?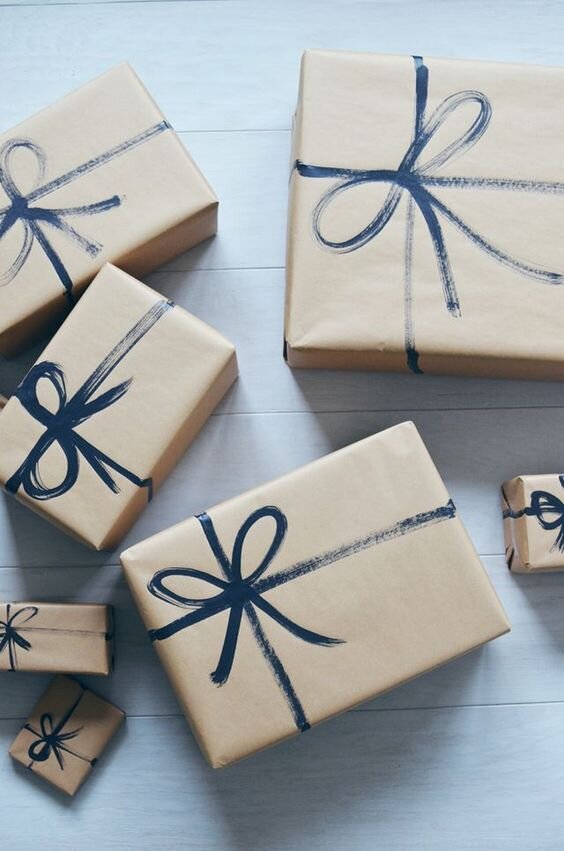 Importance of Eco-Friendly Alternatives to Christmas Gift Wrapping Paper
Paper is biodegradable, right? So how does the use of wrapping paper affect the environment? It starts with the trees that have to be harvested to create the paper. It is estimated that 30 million trees were cut just for the production of Christmas gift wrapping paper, which is difficult to recycle due to the use of dyes. Many wrapping papers (such as those made of foil or plastic) are simply not available recycle. This destruction has not only destroyed forests but has also encouraged landfills that often overflow.
Paperless Alternatives to Unique Gift Wrapping Paper for Christmas
Paper seems to be the only option for wrapping gifts. Yet it is not true. Here are five alternatives to unique gift wrapping paper for any holiday season:
Try fabric
There are several ways to wrap gifts with fabric. First, you can use a rag, turban or tea towel. You can wrap them around gifts and tie them in front to form a knot. You can also place the gift in the center of the cloth, collect the extra cloth at the top, and tie it with a string or ribbon. These look cute and the recipient can reuse the fabric! It's like a gift in a gift!
The reusable woven or non-woven fabric bags can work like traditional Christmas gift wrapping paper but can be reused afterwards and can encourage people to take more environmentally friendly measures.
Create a gift basket
Who doesn't like hand-picked gift baskets? Of course, they can be easily got with those cheese and meat at grocery stores, but they can be changed to something more personal. Put some of the recipients' favorite things or some items on their wish list in the basket! And when personalizing starts, you don't have to stop with only gifts. The basket itself can be personalized.
The basket works great to replace any unique gift wrapping paper, but consider choosing something more suitable for the recipient. A variety of kitchen utensils can be placed in mixing bowls instead of baskets. Storage containers are big baskets for toys, and even suitcases can be used to replace Christmas gift wrapping paper for toiletries or fashion items.
Place it in a jar
One of the recommended alternatives to unique gift wrapping paper is various jars. Think of mason jars, reusable jars, coffee cups or water bottles. Those who like to keep the holidays simple and stick to the basic principles might bake cookies and handicrafts for the family. They often put them in jars, and then tied handmade decorations around the container to trim the packaging.
Hide it in another gift
It is practical? Of course! It's like a nested gift doll. Who doesn't like it? What gifts can be hidden inside? You can put a cosmetic in a new makeup bag or case. What if the recipients are sports enthusiasts? Hide game tickets in a collector's box or cup. What if the recipients like to stay active? Put a new tracksuit or activity tracker in a beautiful sports bag, or roll up their favorite yoga studio membership with a new yoga mat!
The options to replace unique gift wrapping paper for Christmas are endless-just a little creativity.
Use paperless accessories
One of the adorable parts in gift wrapping is trim packaging with ribbons and decorations. If you want to go paperless and don't want to use aluminum foil ribbons or paper name tags, how can you make a gift special?
Decorating the package with seasonal items is recommended. The best way to trim a variety of packaged gifts is to make them with dried fruits (such as lemon, orange or apple slices, cinnamon sticks or rosemary or herbal sprigs) and then reuse or compost them in the kitchen. The use of non-woven fabric ribbons instead of plastic or foil substitutes is also encouraged.
Non-Woven Wrapping Paper as Unique Gift Wrapping Paper
If you have difficulty considering using something other than unique gift wrapping paper to wrap a gift, non-woven wrapping paper is an option easier on the environment. They are not paper, but the fabric that can be reused. They are cheap and available in a variety of styles, colors, and thicknesses. Being soft and elegant, they are designed for multiple uses, especially to emphasize and enhance the packaging of flowers, gifts, and baskets. The non-woven wrap is a good choice because it adds different elements to the bouquet. It allows you to be creative and do something that sets you apart.
No matter how you have decided to be environmentally friendly this holiday season, going with sustainable packaging options can always help encourage those practices with your clients, friends, and family.
Completely paperless is not feasible for everyone, but you can still consider ways to incorporate green elements where possible.
If you have tips for paperless gift wrapping, please share them with us.